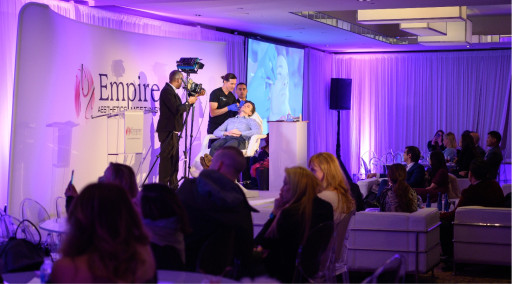 Health News - AESTHETIC NEWS originally published at Health News - AESTHETIC NEWS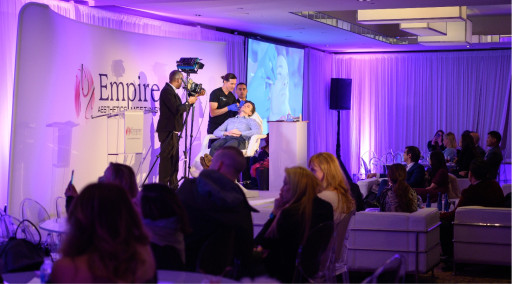 Health - Purple Foxy Ladies originally published at Health - Purple Foxy Ladies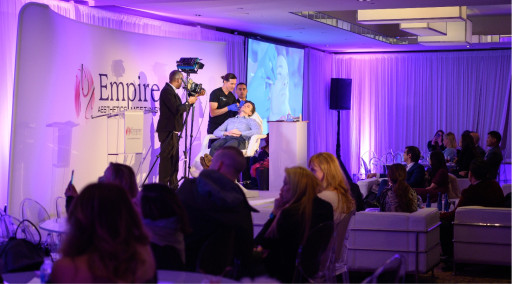 MIAMI, July 7, 2023 (Newswire.com) - Empire Medical Training, the leading provider of comprehensive medical training and education, is delighted to announce its premier aesthetics event and 25th-anniversary celebration on Dec. 9, 2023, covering extraordinary, unparalleled insights into the future of medical aesthetics, led by some of the world's most renowned key opinion leaders and educators. The highly anticipated event will take place at the iconic Fontainebleau in Miami, Florida, bringing together esteemed industry professionals, medical experts, and healthcare practitioners with varying specialties from around the globe.
Empire Medical Training has been at the forefront of providing cutting-edge education and training in the field of aesthetics for the past 25 years. As a trusted source of knowledge and expertise, Empire has helped countless medical professionals enhance their skills and knowledge in medical aesthetics, anti-aging/regenerative medicine, pain management, business and marketing, and more.
The premier aesthetics event and 25th-anniversary celebration will be a momentous occasion for Empire Medical Training and its extensive network of practitioners. Attendees can expect a day filled with enriching educational sessions and engaging panel discussions led by renowned experts in the field. The program will cover the latest innovations in the aesthetic industry, such as combination therapies (using neurotoxins, dermal fillers, and more), exosomes, PDO threads, and more—providing attendees with insights into emerging trends, advanced techniques, and unparalleled breakthrough technologies. Additionally, attendees will have the opportunity to watch live, on-stage demonstrations of some of the most popular yet innovative aesthetic procedures performed by renowned physician experts. The training will also include dedicated lectures by Dr. Cotofana on anatomical considerations for achieving safe injection techniques and discussions on complications mastery and avoidance. This event promises to provide attendees with insights into emerging trends, advanced techniques, and unparalleled breakthrough technologies.
"We are incredibly excited to celebrate our 25th anniversary and host this premier aesthetics event," says Dr. Stephen Cosentino, Founder and CEO of Empire Medical Training. "Over the past quarter-century, Empire has been committed to providing exceptional education and training to health care professionals. This event will not only commemorate our achievements but also showcase the continued dedication to excellence that defines Empire as an invaluable resource, a mentor, and a catalyst for prosperity for many health care professionals worldwide."
The event will showcase a distinguished roster of key opinion leaders who have gained widespread recognition for their expertise and significant contributions to the field of aesthetics. Esteemed professionals such as Dr. Stephen Cosentino, Dr. Chris Croley, Dr. Shino Bay Aguilera, Dr. Sheila Barbarino, Dr. Sebastian Cotofana, Dr. Azza Halim, and Lyris Verdura-Dominic, APRN, will share their knowledge and offer live demonstrations of advanced off-label procedures and applications. This unique opportunity will allow attendees to witness the latest techniques in action, enhancing their learning experience and enabling them to directly observe best practices to apply the new, up-and-coming techniques into their med spas. Additionally, the event will feature panel discussions with Q&A, providing attendees with an exclusive chance to engage with these renowned experts and acquire valuable insights into the realm of aesthetics.
The celebration will culminate with a grand evening reception, featuring a Miami Vice-inspired cocktail party where attendees can unwind, network, and engage in celebratory activities. This engaging gathering will provide an ideal setting for professionals to connect, share experiences, and celebrate Empire Medical Training's 25 years of excellence.
Registration for Empire Medical Training's premier aesthetics event and 25th-anniversary celebration is now open with both in-person and online streaming options for purchase. Early bird discounts and exclusive packages are available for those who secure their spots in advance. To learn more about the event, speakers, and registration, please visit the official event website at https://bit.ly/EmpireAestheticsCelebration or call 844.565.3131.
About Empire Medical Training
Since 1998, 175,000+ physicians and health care professionals have successfully graduated from Empire. Led by a faculty of industry-renowned board-certified physicians, more health care practitioners attend Empire workshops compared to other procedural training programs in the U.S. For 25 years in the Aesthetic, Anti-Aging, Pain Management, and Medicine industries, Empire maintains its top position as the #1 source for accredited CME education and training in the world. With over 50 topics and 700 workshops taught annually, Empire offers ongoing medical education to a vibrant community of thousands of medical professionals and provides them with the opportunity to network, interact, share, and engage.
Contact Information:
Nichole Vaux
Vice President, Marketing and Sales
nichole@empiremedicaltraining.com
8445653131
Yurik Lozano
Marketing Director
yurik@empiremedicaltraining.com
8445653131
Original Source:
Embracing the Future of Medical Aesthetics: Empire Medical Training's Premier Event and 25th Anniversary Celebration at the Fontainebleau
Health - Purple Foxy Ladies originally published at Health - Purple Foxy Ladies
Health News - AESTHETIC NEWS originally published at Health News - AESTHETIC NEWS